This week, Canon has brought out a camera which allows muppets people to shoot vertical video DELIBERATELY! #facepalm
Moment (the company) has released the world's first anamorphic lens for consumer drones,
Adam told us about this collection of recently rediscovered Sydney street photography from days gone by,
the story of the "impossible" photo of the Apollo 4 launch in 1967,
physicists have cracked a 2000 year old optical problem,
the photographer who managed to photograph a bolide while he was sleeping,
and this portfolio of images which embraces your flaws.
Steve Peters sent us to this hilarious instagram account which uses a Barbie doll to mock "IG influencers".
Glynn discovered this video (from 8 years ago…. go get him, Adam!) about the camera which can capture individual rays of light with a one trillionth of a second shutter speed!
Yongnuo launches a new flash which looks suspiciously familiar,
the story about the David Lynch magazine cover and the sordid tale of how that photo got there,
the disappointment experienced by some people who got to the Gates of Heaven in Bali and found that there really WASN'T a body of water in front of it. #instaburned
the one about the guy who shot fireworks on expired film,
and another video about bolides.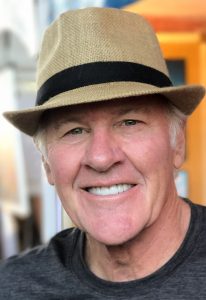 And if all of THAT wasn't enough, I caught up with Marc Silber for a chat about his forthcoming book "Create: Tools from Seriously Talented People to Unleash Your Creative Life", which features interviews with lots of creative people (not necessarily photographers, either!).
The book is out July 23, 2019 and will be available in paperback and Kindle e-book.
Check out Marc's youtube channel, Advancing Your Photography.
Along the way, I was reminded of the Helsinki bus terminal analogy, which I've mentioned before, but which Marc had not heard.