Maki Moussavi, author of The High Achiever's Guide, takes us into Day 2 of her Toxicity Challenge with these words.
---
Hi High Achiever,
Time for day 2 of the 5-Day Toxicity Challenge! How was day 1? Hopefully you now have some clarity regarding what to look for.
Now it's time to talk about why it matters that you recognize toxicity. The impact of tolerating these damaging interactions goes far beyond the relationship itself and can affect your entire life.
We'll talk about that in today's video, and don't forget to download the
Day 2 Worksheet
!
All the best,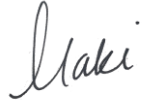 ---